I want to share with all of you the wonderful trip my sister Kim recently treated me to at her beautiful home in
Texas a couple of weeks ago. I was very nervous about flying alone, not because I'm afraid to fly but navigating SeaTac airport and Dallas' huge Dallas-Fort Worth airport was very intimidating to me. Now that I've done it I am no longer afraid! I flew out early on a Sunday morning that was cold and drizzly in Seattle and arrived in Dallas to greet warm sunshine and my beautiful smiling sister. We stopped and had mexican food on our way to her home in Lavon, Texas and there my adventure really began.
Here are a few pictures of Kim's beautiful homestead!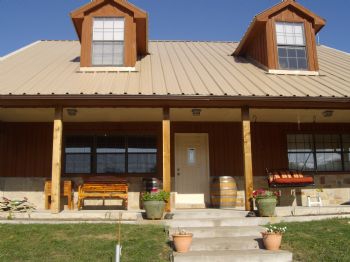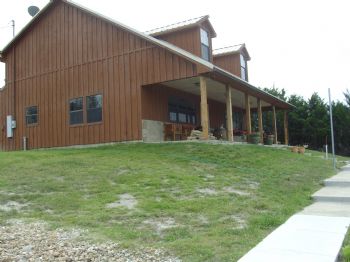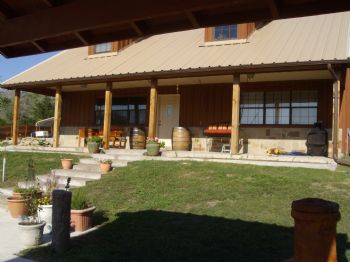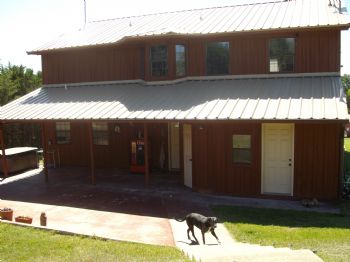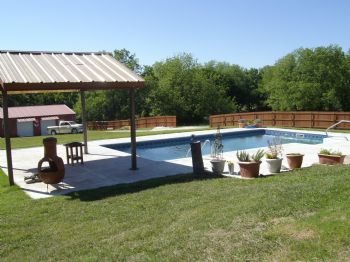 I could post more but I think you get the picture! Here are photos of Kim's pottery studio and her husband Don's workshop!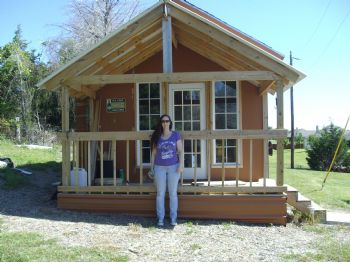 And some pics around the property!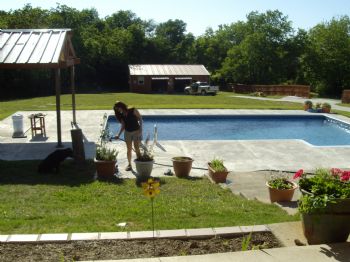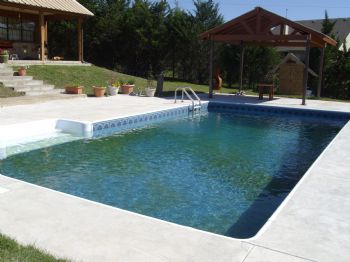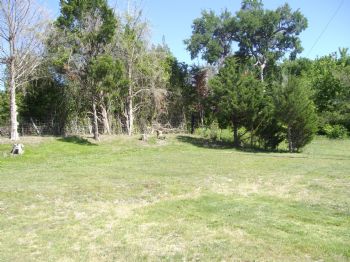 A few pics of inside the Brock homestead!
Kim gets tired of modeling for pictures!
This is a view of Kim's cowhide from upstairs in the loft. The floor plan is open and airy and allows for great natural lighting throughout!
The stairway leads up to the loft, a lovely space where Kim and Don watch TV and hang out in the evenings.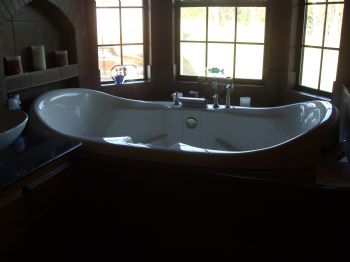 This is Kim's large soaking tub. I won't bore you with pics of the rest of her bathroom but let me tell you that I could practically live in her master bathroom. It is nearly a religious experience, LOL!
When we arrived at her house I spent the first hour taking pictures. I felt that I had arrived at a 5 star hotel with beautiful grounds and a gorgeous pool. We spent the day relaxing, chatting and getting "caught up." We had a healthy meal of stir fry that Kim made and then we enjoyed an awesome beverage my sister invented called a "Razatooey" which consists of Bacardi raspberry flavored malt liquor with raspberry flavored vodka and vodka-infused whip cream! Yum! Easy to overindulge! I'm not much of a drinker but with drinks that delicious I could be!
On my first full day we decided to hang around the house
and relax. We took the dogs for a walk on a large undeveloped property that is directly behind Kim's place. Don blazes a trail with his riding lawn mower for easier walking!
As you can see, the area of Lavon, Texas is greener than many parts of the state. I loved the trees and wildness of the property!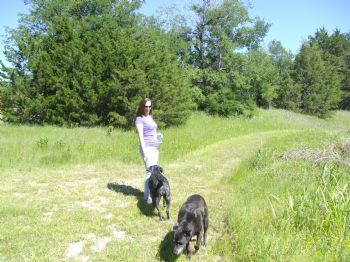 I found some lovely wildflowers that I've never seen in Washington state before, this one was my favorite. In the hot Texas sun the flower seemed to be on fire! I only wish my camera could have done it justice!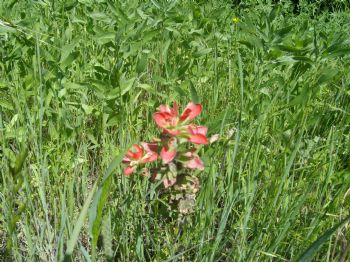 We went to lunch that day at The In-n-Out Burger, mostly because I thought it was merely a fictitious restaurant from the movie "The Big Lebowski" and when I heard it was real I had to eat there! I don't usually eat fast food but I have to admit...it was a pretty good burger!
That night we had a healthy lasagna with salad for dinner and tucked in early, anticipating our fun day in Dallas Tuesday. After a leisurely breakfast, and mocha for Kim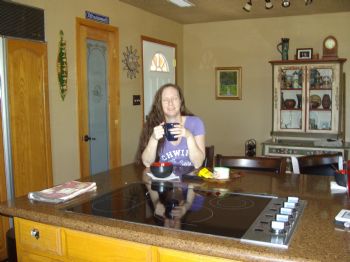 we headed for Dallas, about 50 minutes from where Kim and Don live. We did part of the Dallas art walk, a fun tour of various sites throughout Dallas. We didn't do the whole walk but here are some of the highlights. We started with the Crow museum of asian art and here a few pics of some of our visit there: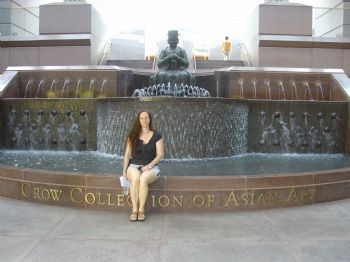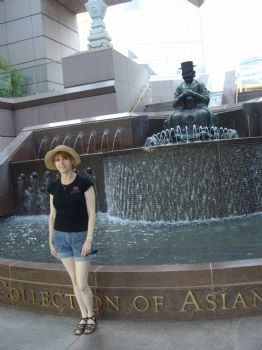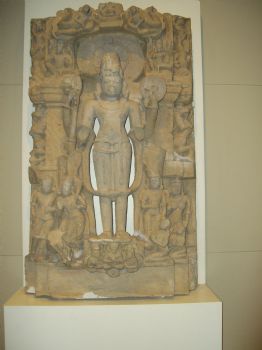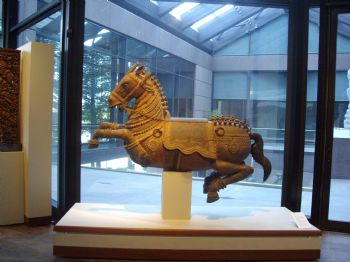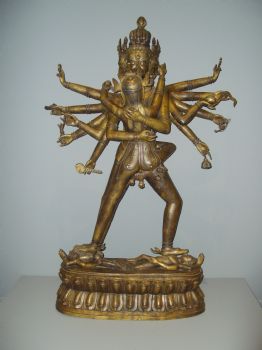 This was my favorite piece in the Tantric exhibit.
When we left the museum we walked around and found these various sculptures: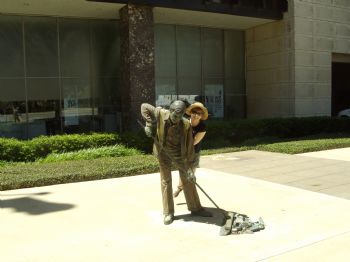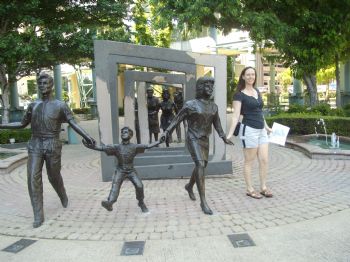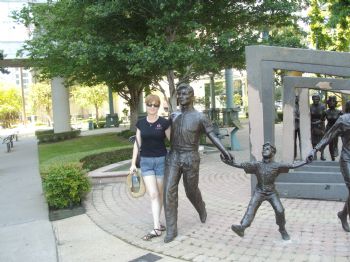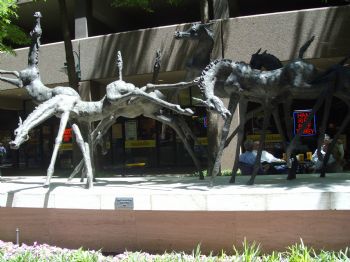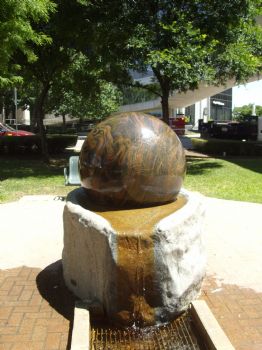 This was an interesting feature...when you touch the sphere with your hand you can change the direction of it's motion. I really liked it though the pic doesn't really show off it's beauty.
As we walked we spotted this awesome mural painted on the side of an old building. I loved it and had to capture it on film!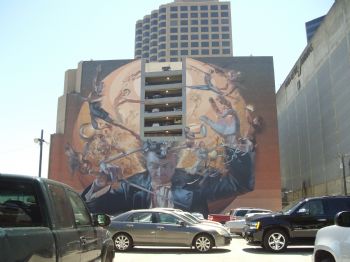 We finished up our long walk, several miles by the time we were done, at the Dallas farmer's market. It was full of beautiful colorful veggies and fruits and the vendors give you free samples which ended up being a great healthy snack for us after all that walking!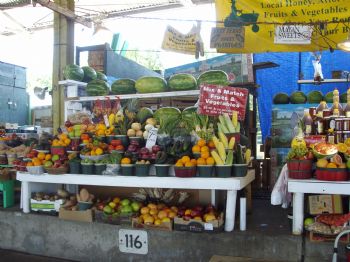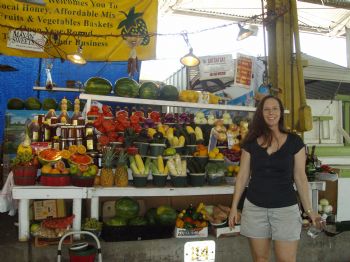 My sister is so beautiful! Look at that Goddess hair!
We had fish tacos at a lovely cafe and enjoyed our food outside!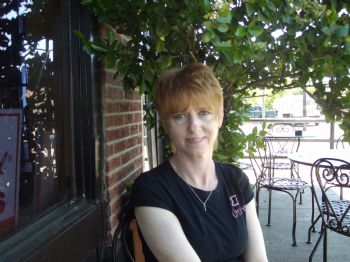 Me, hungry and waiting for that taco, which was spicier than our fish tacos here in Washington! My mouth was on FIRE!
After our fun day in Dallas we went home and Don smoked a chicken and we got to eat corn on the cob. Now that may not seem like a big deal to you but here's the thing: my sister has had an anaphylactic allergy to corn since she was a little girl. Less than two years ago she would have died by simply touching a kernel of corn. Thanks to the NAET protocol, a natural alternative allergy therapy, she can now eat all the corn she wants. She can also sit in the grass and enjoy wheat products, both of which would also have killed her prior to NAET. Here is a pic of Kim enjoying her corn...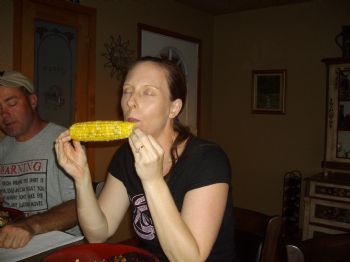 On my third day we hung out and broke in the pool for the first time of the season. We had a great time splashing around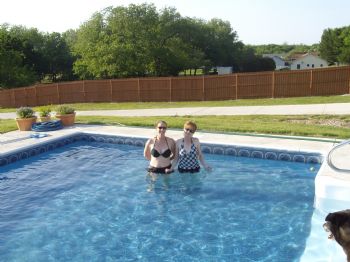 Since the pool is not heated it took us some time to brave going in all the way! But finally we did and OH! it felt so GOOD!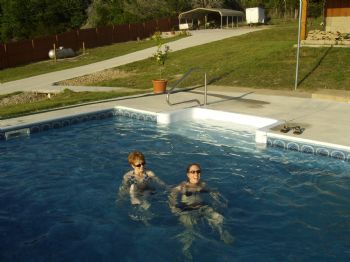 After the swim we both felt refreshed and ready to do anything!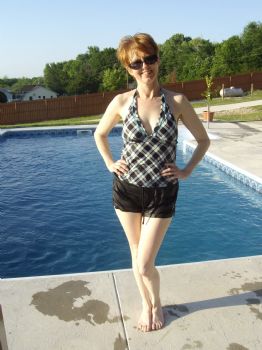 Me, the palest gal in Texas, LOL!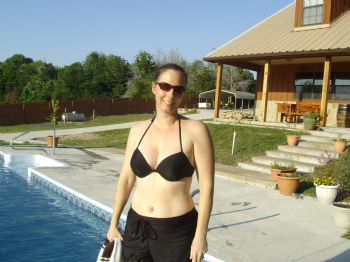 Lucky Kim has the figure
to brave a two piece suit!
On Thursday we lazed around house and property. Kim and I kindled together on her reading chaise lounge: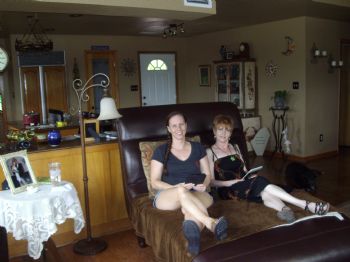 We watched as the dogs enjoyed a swim: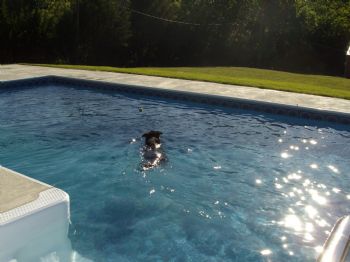 Molly loves to swim, especially when she can combine swimming and playing with her ball!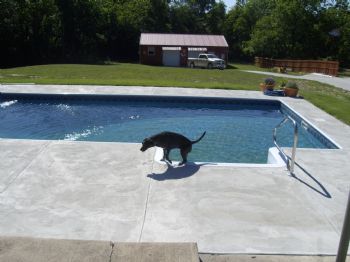 Roxy just gets in and out to cool off.
Don, who is such an awesome brother in law that I truly think of him as a real brother, is a power para glider and teaches people to fly. Here is a unit he bought while I was visiting: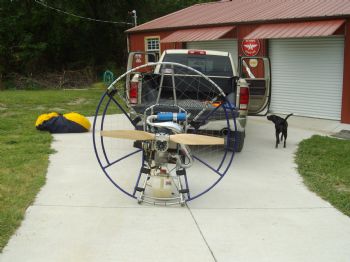 Here he is checking out the new wing: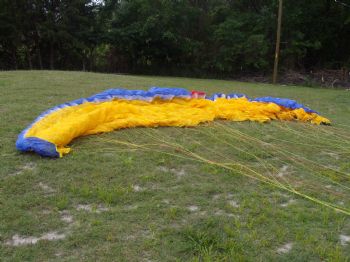 Kiting the wing:
Don had planned to take me flying but the wind kicked up for my last three days so it was unsafe to fly. That gives me a great excuse to go back!
Thursday night Kim and Don invited their good friends Brian and Prissy over, who brought their dogs. It was canine invasion night and I cooked Chicken Chili for everyone. It was a fun time of fellowship! Kim and Don have truly awesome friends!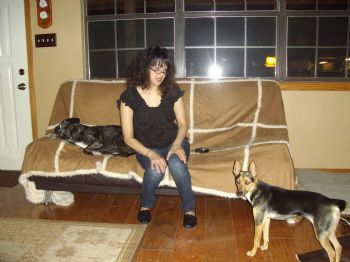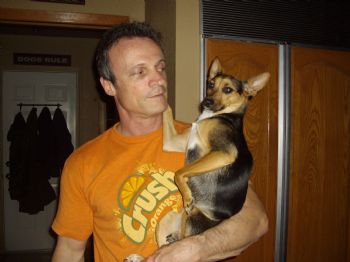 Friday we all decided to head to Dallas to have lunch at The Alligator Cafe. It was the cutest little restaurant with indoor and outdoor seating but we sat inside because I forgot my hat and my sister didn't want me to have a Lupus flare. She's such a great little sis!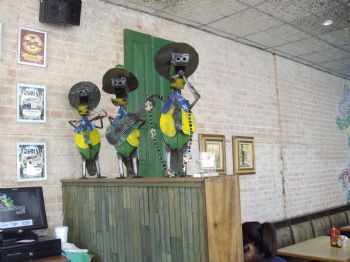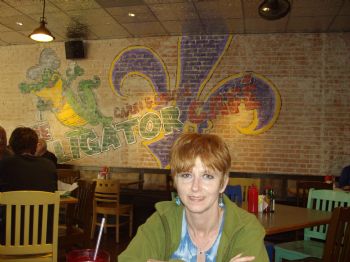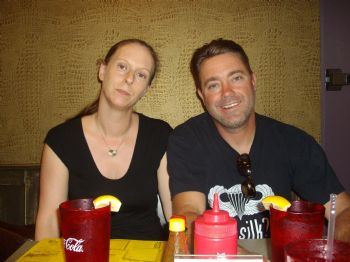 Gotta love that alligator skin wallpaper! And here is what I ate...a very heatlhy meal of grilled alligator with a tomato and cucumber salad. I found alligator to be simply delicious and I know what you are thinking! "It tastes like chicken!" LOL! I thought it tasted like a perfect combination of chicken and pork with just a hint of beef.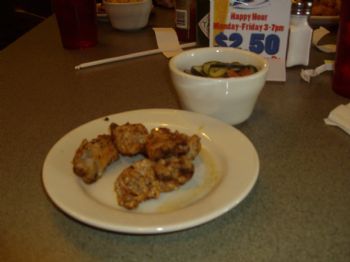 Curtis, our sweet little waiter, assured me that alligator is very lean and low in cholesterol and fat. He is planning a trip to Seattle soon and asked me to recommend a good place to eat. Of course I told him to sample our fine seafood here and recommended Salty's, my favorite seafood restaurant.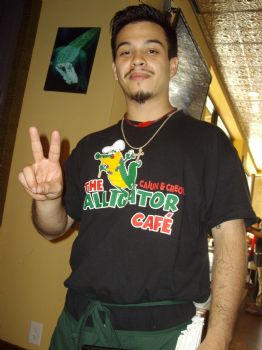 On Saturday, my final day in Texas, Kim's friend Kim came over and we lounged in the sun all day, chatting and laughing and having "girl" time, something I don't get much of. The "other" Kim was a hoot and I only wish I could have brought both of them home with me!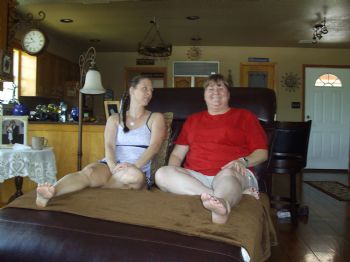 Here are a few more random pics of my time with Kim and Don: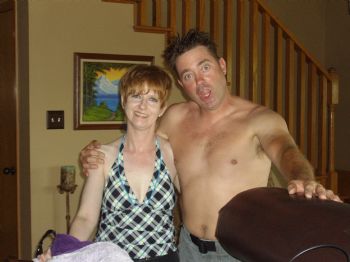 This is an awful picture of me but it really captures Don at his goofiest best!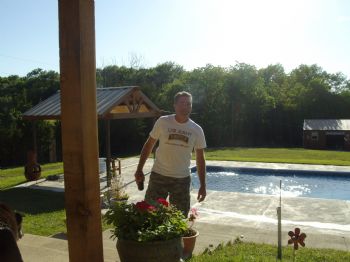 Don enjoys a beer after working with a new wing in the hot sun.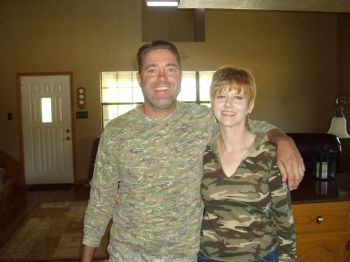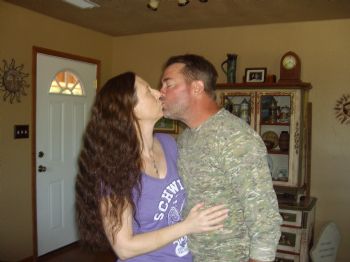 13 years married and going strong!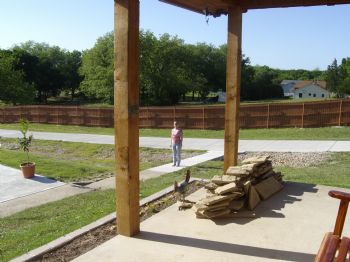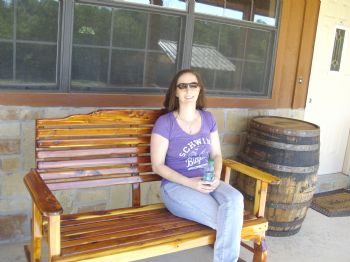 This is a pic of the propane tank that Don plans to make into a "submarine" and Kim is going to plant blue flowers all around. I will blog those pics when that project is done so stay tuned! Don is one of those guys who can build and make and create anything! I suggested he make it the yellow submarine but got a great big "NO!" for an answer, LOL!
That about wraps it up. We got up EARLY Sunday morning to take me to the airport. I have to tell you that I did have an interesting TSA experience! I was, for some reason, chosen to be patted down. My pockets were checked and I had to remove my socks, apparently they were worried I was smuggling something between my toes. The worst part was that the gal then made me move my necklace to my back and stuck her hand down my shirt, into my bra and asked "Do you have anything in your bra?" To which I responded, "Aside from my boobs and your hand, NO!" The flight home, though not brutal, was full of turbulence and I was very glad to get back on the ground. The best thing of all was when I was riding down the escalator to baggage claim and saw my handsome grinning husband waiting there for me. I missed him so much on my trip and will NEVER go anywhere without him again! When I got home my dog went ballistic and showed me how much she had missed me as well.
I am happy to report that I did not gain so much as one ounce on my vacation! I normally only weigh in once a month but for this occasion I did weigh in prior to and just after my vacation. I was proud of myself but honestly, it wasn't hard because my sister also eats healthy and we had so much fun we just didn't snack!
Vacations are great but so are happy homecomings! Thanks for sharing my trip with me!