I know what you are thinking...healthy popsicles? That may sound like an oxymoron to you since today's "healthy" popsicles consist of a little (if your are lucky) fruit juice and artificial flavors and sweeteners. What I'm talking about are popsicles made with herbal infusions and once you've tried one, you won't want to eat those storebought frozen concoctions again!
I have been making herbal popsicles for a couple of years now and it all started when I wanted to have a healthy frozen treat for my grandkids when they stopped by on hot summer days. I had one grandaughter in the throes of the terrible two's and a grandson who was teething, so my first herbal popsicles were an experiment in tackling those issues while still satisfying their little sweet tooths! For little Lily's temper tantrums I decided to try Lemon Balm and Catnip, knowing that these herbs are gentle enough for small children (even infants in small doses) and that they are sweet and mild in flavor. Not only did the children love them but one popsicle was enough to calm Lily's temper for a couple of hours. Mind you, she did not become the perfect "stepford child" but her behavior did mellow and the tantrums were fewer and easier to deal with. For Noah's teething I tried Clove, knowing that Clove is the go-to herbal remedy for toothache, teething or gum pain. It was amazing how well the popsicle worked, giving the little guy (and mom and dad!) hours of relief. After such success I decided to branch out and try different herbs in different combinations for different effects. What I discovered is that the possibilities are endless!
Noah, before the Clove popsicle...teething hurts!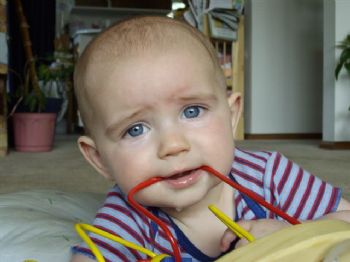 Noah, after the Clove popsicle...feeling much better now!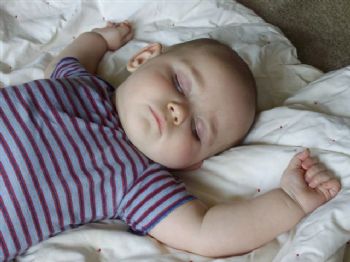 To make herbal popsicles you only need the popsicle containers and to know how to brew a pot of tea. If you don't already have a set laying around you can purchase them almost anywhere, however I do personally recommend using the tupperware brand since that is the only set I've ever had that really worked consistently and held up over time. Once you have your popsicle containers all you need to do is brew up a pot of herbal tea. For a set of 6 small popsicles you will need about 2 -3 cups of water and about 3 tsp. of dried herb or 3 tbsp. of fresh herb of choice.
1. Place herbs in large glass measuring cup or other vessel that is easy to pour from
2. Boil water
3. Pour boiling water over herbs and allow to steep for 30 - 60 minutes, depending on how strong you want your medicine ( I always cover the infusion with a paper towel to keep the volatile oils in)
4. Pour into popsicle containers and freeze (if you have extra...drink it!)
5. Enjoy!
To sweeten, if needed, I usually just add a teaspoon of honey powder but you could use any sweetener you like.
If you are not sure what herbs to start with I advise you start with simple herbs like Lavender, Catnip, Lemon Balm, any of the Mints and edible flowers such as roses, red clover, borage and hibiscus. Here are some simple ideas for simple health issues:
1. Lemon Balm, Lavender, Catnip, Mint for stress, mild depression, melancholy/sadness, stomach upset
2. Clove for toothache, teething, gum and/or oral pain
3. Rosemary, Basil, Lavender and Catnip for mild headache
4. Mints for tummy troubles or halitosis
5. Edible flowers, as listed above, for their subtle, lovely taste and color
6. Catnip, Lavender, Skullcap for insomnia
7. Thyme, Lavender for bad dreams
8. Peppermint (allow to infuse for 2 hours before pouring) for sinus congestion
These are just some simple ideas to get you going. If you do not have access to fresh herbs, consider growing your own! This will not only give you an ongoing supply of fresh herbs it will give you the opportunity to learn more about herbs and their benefits, help you burn a few (or a lot) of calories tending the garden and help you get outdoors for fresh air and healthy activity that has great rewards! If you want to buy medicinal or culinary (which are also medicinal) herb seeds to start your garden, I recommend Mountain Rose Herbs
for the best in quality. And if gardening is not your "cup of tea" the Mountain Rose Herbs website also has a huge selection of quality dried herbs for sale. What I cannot grow myself, I buy from them. They are the best in the business of herbs and I have posted the link to their website below.
So, what kind of herbal popsicle are you going to make?
www.mountainroseherbs.com